Convert easily HTML to PDF
Sferyx HTML to PDF Converter Offline Desktop Application
---
Advanced HTML to PDF Generator and Converter Application - create easily PDF documents from any HTML content.
Sferyx PDF Converter is very powerful batch HTML to PDF Converter and Generator application - you can install and run it on your desktop and batch convert all the files you want - no subscriptions or other fees are required. It converts and generates quickly and easily HTML to PDF on Windows, Mac and Linux and produces perfectly paginated documents. With only a few clicks is possible to generate complex PDF files from practically any source or location and the resulting PDF can be written to the specified folder. Supports all UTF-8 languages including support for all Latin languages, Greek, Arabic, Cyrillic, Hebrew, Farsi, Chinese, Japanese, Hindi, Tamil, Symbol font, Wingdings fonts and more. The Sferyx PDF Converter application is ready for use out of the box and does not depend on external packages or any other additional software.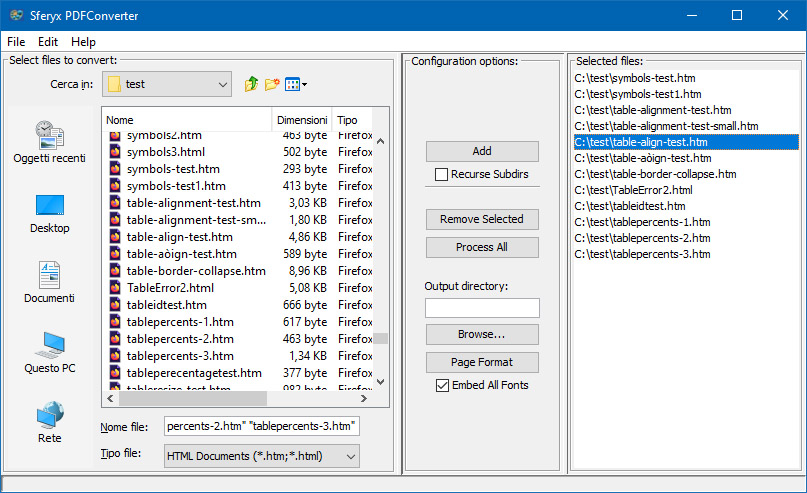 Download Sferyx PDF Converter Application





Version 21.0



Sferyx PDF Converter Application

PDF Generation engine - allows fast and easy PDF creation from various sources and also convert even very complex HTML/XHTML documents - 100% in house development - it does not depend on external packages or software.
It converts and generates quickly and easily PDF and PDF/A files directly from HTML, Plain Text, Microsoft Word Docx, Rich Text Format RTF, JPEG, GIF, PNG, BMP
Automatic multiple page layout, rendering and inclusion of all images, inline and linked styles etc.
Possibility to specify the desired Page format and margins and whether to scale the content to fit inside or not
Fully compatible with Microsoft Windows XP, 7, 8, 10, Mac OS X, Linux
Support for all western Latin languages such as English, German, French, Italian, Spanish, Portuguese, Swedish, Norwegian etc.
Support for

Arabic, Cyrillic, Greek, Hebrew, Farsi, Hindi, Tamil and many other languages through UTF-8

character set encoding and

Chinese language

is also supported through the ISO-10646-UCS-2

character set
Automatic embedding of all TTF fonts contained inside the document when the UTF-8 encoding is set
Support for PDF/A file specification when UTF-8 is set.
Compact size and fast document generation
Possibility to specify whether to split the pages automatically or to generate a poster-like one page PDF file with automatically determining the page length to fit the content.
You can specify Headers, Footers and Page numbers in any formatting and position through full HTML formatting support.
Now all hyperlinks inside the HTML document are generated as links (annotations) automatically into the resulting PDF file
Support for disabling the table breaking across multiple pages
Support for disabling lists breaking across multiple pages
The use of the PDF Converter application is quite simple - with only a few clicks is possible to generate and convert practically any HTML document to PDF and the headers, footers, page numbers etc.
In the files dropdown you can select the HTML file type - this way you will see only HTML files in the file chooser. Simply select or drag & drop the HTML files and folders you want to convert, choose the output folder and click process all - that's all - all supported files will be converted automatically and the resulting PDF files will be saved to the specified folder. If your document contains special fonts, characters or symbols you should leave the "Embed All Fonts" checkbox selected - this way all the necessary fonts used inside the document will be included in the PDF file.
The application will recognize automatically if document is html, docx, rtf, txt or image and will convert it accordingly. To use this automatic conversion the files must end with the corresponding extension like docx, txt, rtx, jpeg, gif, png etc.
Customers
Sferyx customer base counts more than 1000 corporate customers and institutions from over 40 countries and different industrial sectors as follows: Media and publishing companies, Internet Service Providers, Research Labs, Fortune 500 companies, Universities, Colleges and Schools, Software Developers, Content Management Systems developers, Web design agencies.
More than 1000 corporate customers, among them:
| Home | Users Manual | License | Demo & Download

Copyright © 2001-2021 Sferyx Srl. All rights reserved. Sferyx and the Sferyx logo are registered trademarks of Sferyx Srl. http://www.sferyx.com